Phoenix Residential Landscapers with Vision
Let us help your home shine by handling your landscape installation and maintenance. With our professional landscape architects and dedication to our clients, ALM will turn your dreams into a reality. Whether you are looking for a company to strictly maintain the beautification of your property, or help with renovation from design to installation our quality services and competitive rates can help accomplish your goals.
Our top priority is to provide you with the most aesthetically beautiful and healthy landscape possible, personalized to your liking. We will accomplish that through our hard work and attention to detail.
Installs that please any taste or budget! Our installation services include: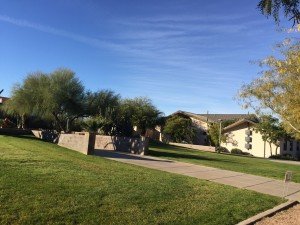 Flagstone
Concrete Curbing
Stacked Stone
Water Features
Tumbled Glass
Granite
Boulders
Sprinkler Systems
Drip Systems
Low Voltage Lighting
Sod
Trees and Plants
Block Walls
Planters
Pavers
Let us handle yard care! Our maintenance services include:
Weekly, bi-weekly, or monthly routine maintenance
One time clean-ups
Mowing, edging and trimming of lawns
Shrub pruning and maintenance
Fertilizing plants and grass
Winter over-seeding
Aeration
Palm tree skinning and trimming
Irrigation inspections, maintenance and repairs
Tree pruning
Stump grinding or removal
Weed removal and application of pre-emergent and post-emergent
Bed preparations and installation of annual flowers
Renovations of existing landscapes
Getting a quote is easy! It's just a call or click away!
If you would like to request a bid on your landscaping project, please contact us at (480) 821-4966 or customerservice@alminc.net.
The book used for training our employees in Sustainable Landscape Management (SLM) is Sustainable Landscape Management by Janet L. Waibel landscape architect and certified arborist. Also, all landscapers receive ALCA SLM training.