Tree Services that are Tailor-Made to fit your home
The trees on your property are likely the most valuable plant you have purchased and will last the longest if you take proper care of them. They need to be well maintained and cared for, just like your lawn in order to keep them beautiful, safe and healthy.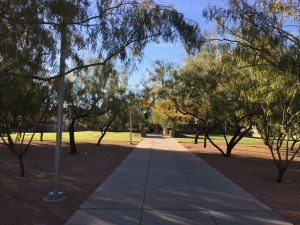 ALM can help you protect your home and landscaping investment with proper tree care. Engaging in regular pruning will help to keep your trees healthy, save you money on care and prevent damages to your home. Additionally, we recommend trees be pruned before monsoon season because the monsoons bring high winds and heavy rains; which can damage the trees, causing damage to your home or its landscaping. Our team of professionally-trained arborists and experienced tree workers can ensure the health of your trees through regular pruning and care.
Our arborists have specialized training and the equipment necessary to promote strong growing trees that will enhance the beauty of your entire landscape. Not only does our team know how to properly prune the trees so they stay safe and structurally sound. Our arborists can also conduct an inspection of each tree, to better analyze which fertilizer is best for the trees' soil and surroundings plants. We can also help with tree removal, stump grinding and emergency tree services if Mother Nature ever has other plans.
Our Residential Tree services include:
Tree trimming
Tree fertilization
Tree replacement
Stump grinding
Large tree removal
Emergency tree services
Monsoon / Emergency Storm Clean-up
Bad storms can be devastating for your homes landscaping and trees. When storms wreak havoc on your trees and landscape, Artistic Land Management can be there to restore your damaged property, including downed limbs, trees and more. Our certified arborist will reshape any damaged trees and handle any necessary tree removal due to storms. Our trained tree worker will evaluate the tree to determine whether it can be safely salvaged, re-staked and save your investment.
We provide fast, reliable emergency storm cleanup to restore your property quickly and with minimal interruption. We know how important it is to return your property to its pre-storm condition. Let us do the hard labor! ALM is committed to freeing you of the stress related to the storm. We will take the necessary course of action to dispose of all debris, leaving your property looking at its best.
No clean-up is too much for ALM. Our storm damage cleanup services include:
Tree removal, stump removal and grinding
Tree pruning
Large tree staking and bracing
Tree replanting
Leaf and debris removal
Re-sodding
Retaining wall repair
Avoid storm crisis with a team that's on-call for you.
We are on-call during bad storms to respond quickly to your needs to help keep your family, neighbors and property safe.
If you need storm damage clean up during or after a storm, please contact us at (480) 821-4966 or customerservice@alminc.net.
For Emergency and Non-working hours only contact Jose Hernandez at 602-478-3390 and via e-mail at Jose@alminc.net.
The book used for training our employees in Sustainable Landscape Management (SLM) is Sustainable Landscape Management by Janet L. Waibel landscape architect and certified arborist.